"How much does video production cost?" is one of the most common questions we get asked. There's no straightforward answer, but here's our best one...
Creating content costs less than ever these days. New technology has put the power of production studios in our mobile phones. We are all savvier than ever about how a film goes together. You have everything you need to create and share content right now. Even for professionally produced content these advances have fed a drastic reduction in the time and cost of creating a like-for-like piece of work over the last decade or so.
That having been said, in order to 'cut through' to our online audience we should be sharing more content than we ever have before – so it's just as well that it's cheaper. Because of this there has been a significant move towards getting as much mileage as possible out of all the content that we create. We call this 'content atomisation' – when you take the central piece of content and then re-edit and repurpose it to maximise the mileage. The cost of each output has fallen, even if the cost of the overall project is often the same.
So, how much does video production cost?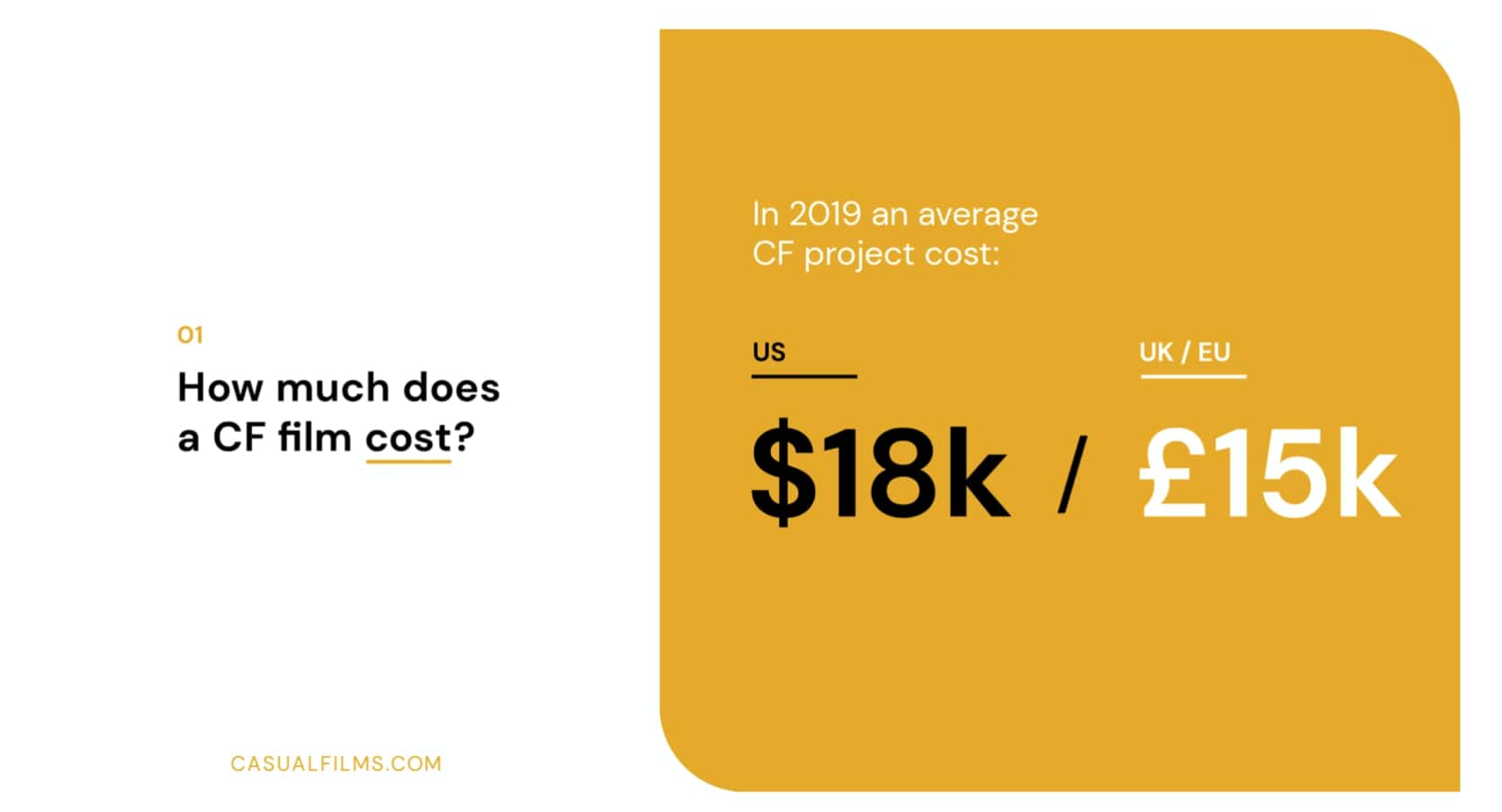 There are a few different ways of answering this question but to save beating around the bush, the simplest answer is that an average Casual Films project for the financial year to 2019 was $18k in the US and £15k in the UK/EU.
The key word there though is project, as often these can entail a number of different outputs and reedits. More usually, we will create a series of films that cost more in the $/£60k -100k region. Some projects extend into the hundreds of thousands, but these tend to be many outputs in one.
Can you break down those costs?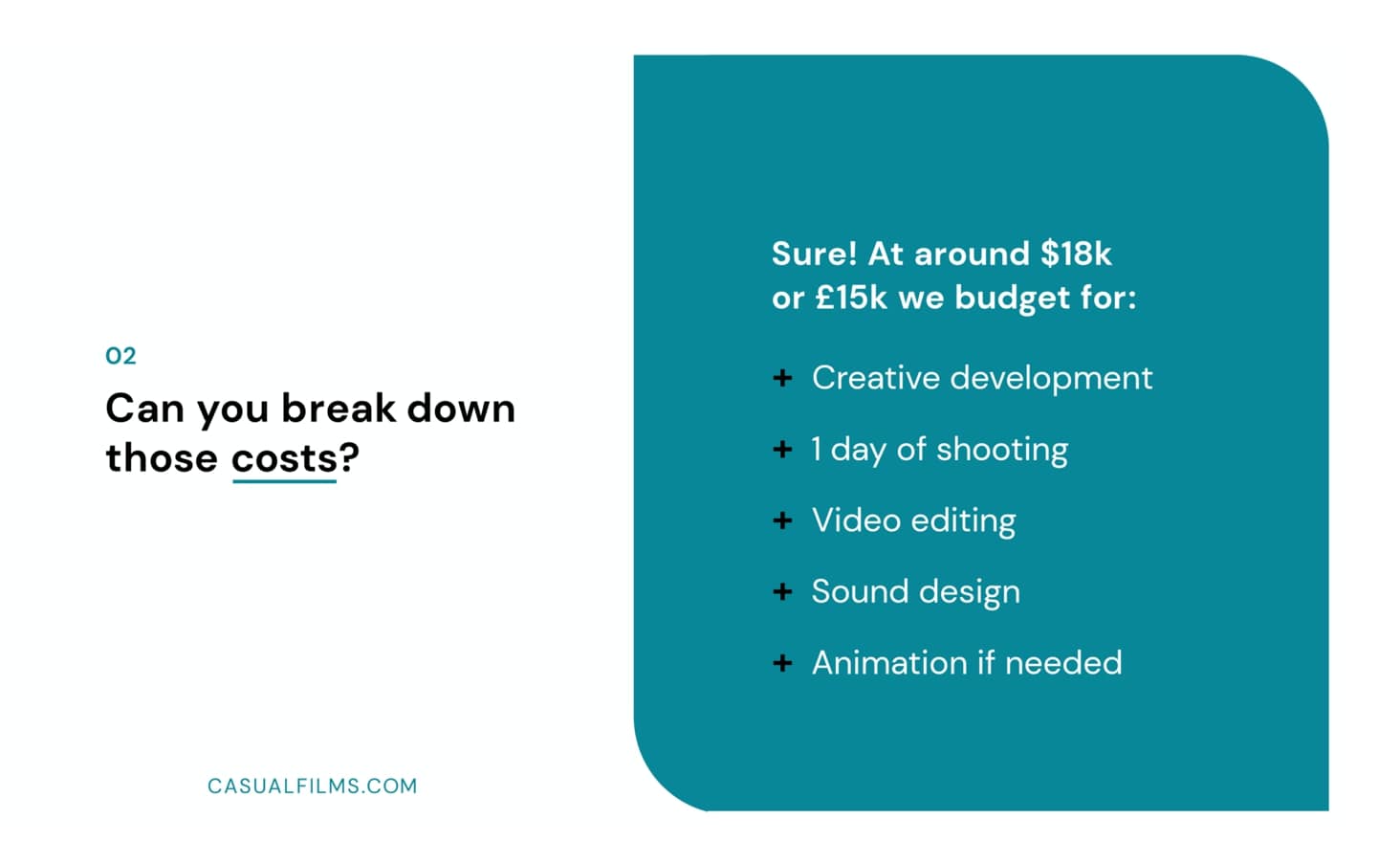 Because at around $18k/£15k we begin to be able to add significant value to the project with our proprietary production process. In an effort to remain a cost-efficient video production company, our prices are defined by the amount of time that it takes to create each project. Different roles in the process cost differing amounts depending on their experience, expertise and impact on the project. At this budgetary level there is enough budget for two or three days of creative - to get a great idea - some producer time to make it all happen, a day or two to shoot it and then editing, sound design and some animation if necessary. They will be able to create something fairly sparkly, as long as they don't need to work around too many fixed costs - travel, talent, specialist equipment.
Related: Want a more granular view of what goes into your recruitment or marketing video? Check out our post on The Five Phases of Video Production.
I have no budget! What's the cheapest recruitment or marketing film you can make?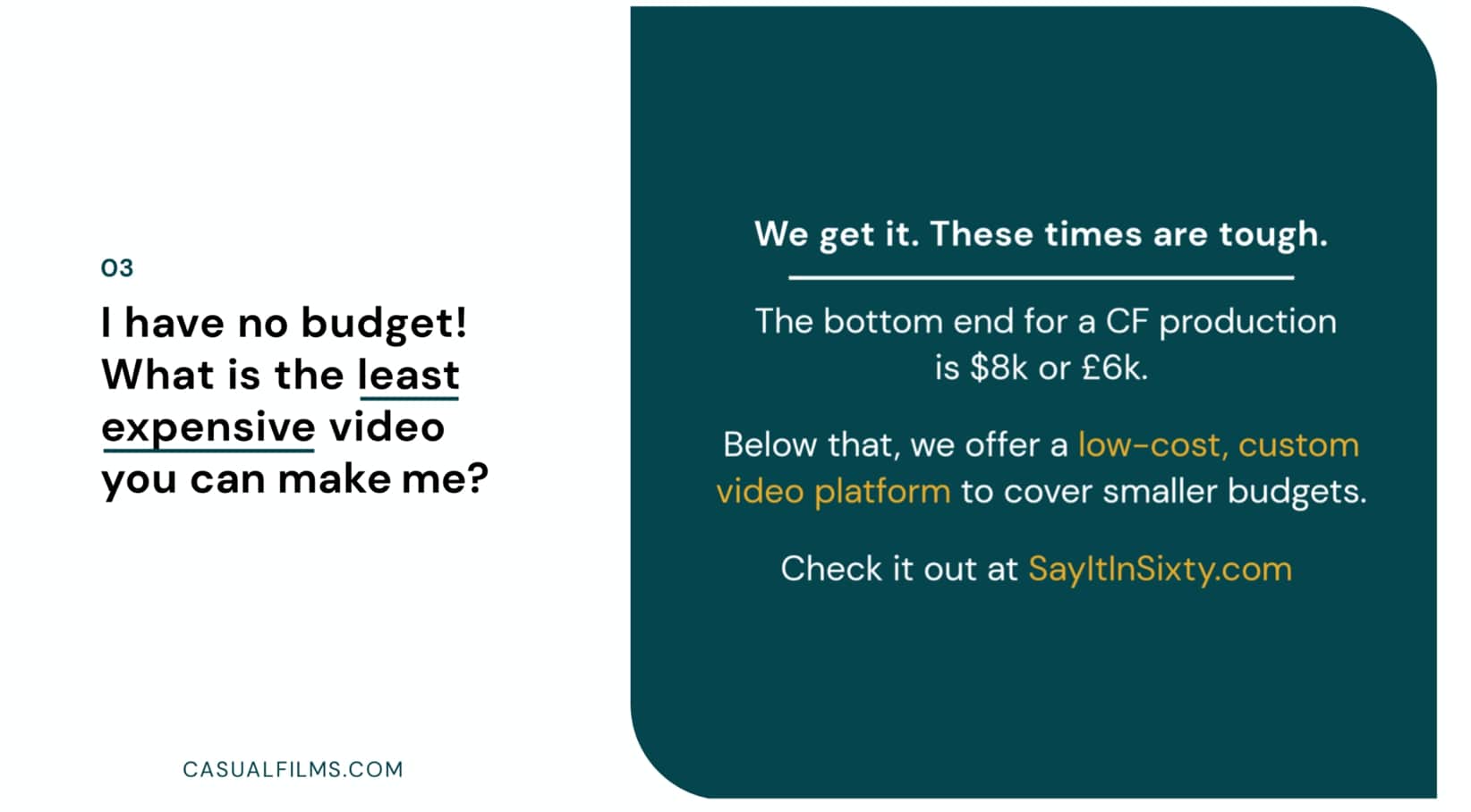 The lowest that we tend to start a project is around $/£8k, although if we have an existing relationship then we can and do go a little lower. As a leading video production agency we tend to not compete for projects at the really low end. That's because there are lots of smaller producers and freelancers out there who do a decent job at this level. We're also not able to add the same value as when the projects have a little room for a bit more creative thought and sparkle.
As a rule, if this is your first question we're probably not the right video production service for you. We compete on being able to make things happen for your business with video – optimising for return on investment rather than being as cheap as possible.
Related: Find out how your money gets spent, in this blog post that unpacks the five phases of corporate video production.
Can you work to my budget?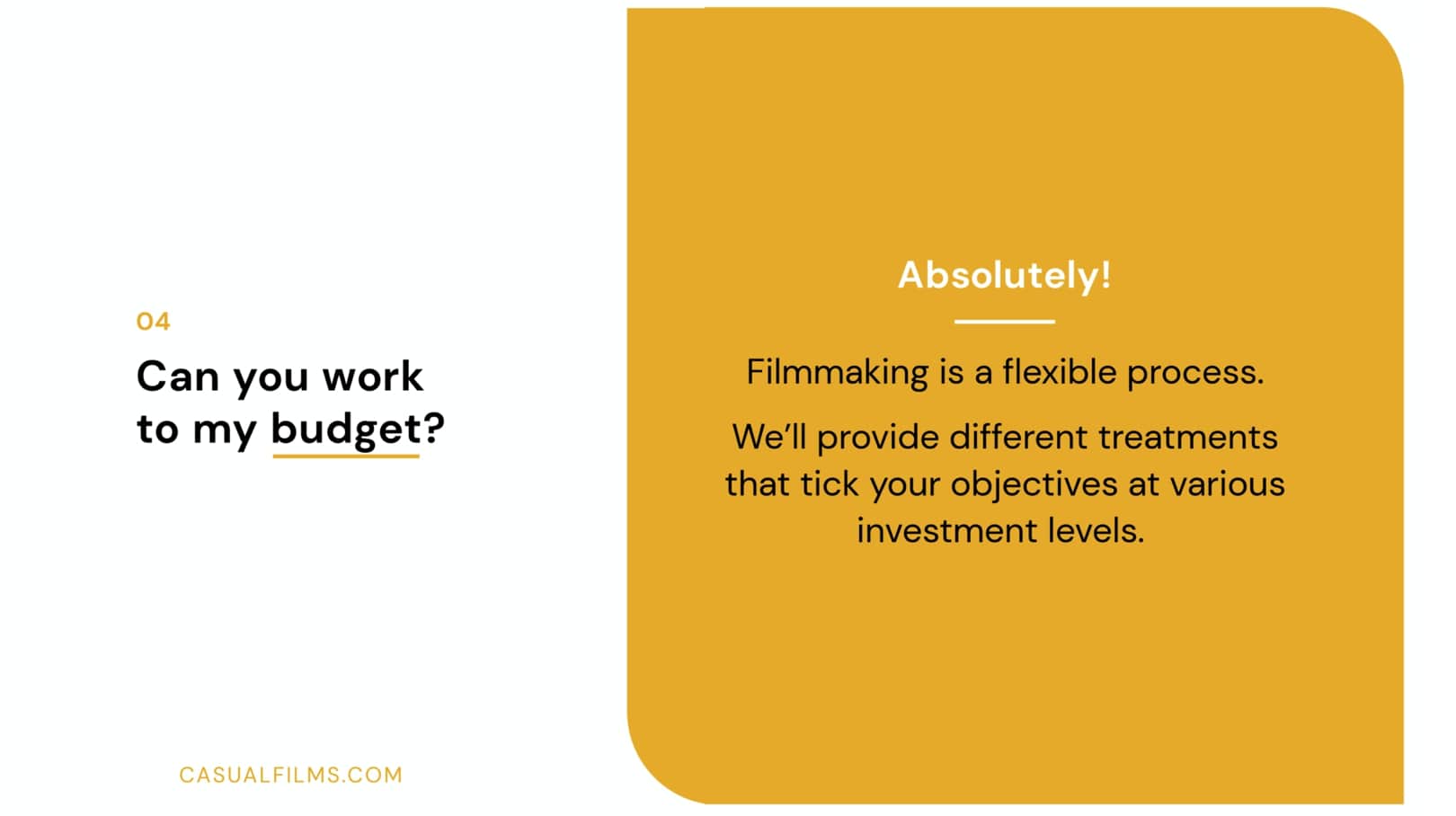 The process of filmmaking is creative, so the budget becomes an additional constraint that the creative thinking needs to work around – like the timeframe, branding or specific messaging. Because of this, it can be extremely flexible – it's possible to fulfil the same objectives for significantly different investment levels. On the other hand, quality, in-depth thinking and delivery take time, and time costs money. If you need to shoot in a number of different locations or include significant amounts of complex animation these are hard costs which are challenging to work around.
To learn about the important role that video plays in recruiting top talent, read the Casual Films Recruitment Video Guide. We've also written a guide for marketing gurus who want to leverage the power of video content. Learn more about that, and video marketing services, in our Guide to Brand Video Production.
What about promoting my content
For years, there has been a disconnect between where marketing money gets spent and where the real potential lies. In studies, researchers have found that the quality of creative messaging is responsible for up to 75% of a campaign's success. In spite of this, as much as 90% of the overall spend is often still focused on the media budget.
"75% of a campaign's effectiveness is defined by the quality of the creative messaging"
- Google
Traditional television marketing became so successful largely because of how strong the metrics that were available to support it were. One of the major challenges that online content has faced over the years is the challenge of showing direct causation between money spent and the return on that investment.
But this isn't necessarily about spending more money on marketing than you already are. Creating and executing a comprehensive and effective content strategy can be about redistributing the money you're already investing. Why, for example, are you spending hundreds of thousands or even millions of dollars on the production of TV commercials when the vast majority of your audience watch them for the first time as a small image on their Facebook feed, momentarily pausing before scrolling onwards, and paying very little attention to them?
The past six months have really demonstrated how creative we can get given such stringent limitations. Casual Films has pivoted to continue to meet our clients' needs even in our new normal. We've got you covered with delightful animations and snappy edits. Absolutely need to show your employees or facilities? Our team is well-versed in all the COVID-safe precautions to make filming in-person both safe and effective. Contact us today to learn more.