As filmmakers we sometimes need to kill time - in airports, interview rooms, watching render bars. One-way of doing this is by playing the game, Would You Rather? The options are only limited by the imaginations of the crew which can be fairly 'expansive'. Most of them probably shouldn't be shared here. A classic though is:
Would you rather fight one chicken the size of a horse, or 100 horses the size of chickens?
It's a poser. In terms of brand video production, the horse-sized chicken used to rule the roost: a single monolithic piece of content that promoted your brand with a knockout punch. It was shared everywhere – the AGM, at pitch meetings and conferences. Everyone would watch it and marvel as they were told how amazing the company was.
Breast Cancer Now - Chantelle 90 second cut
Now, things have changed. Online content is all about multitudes of chicken sized horses. You need volume because your audience are so fragmented, over stimulated and time poor the only way to be sure your message gets through is via a carefully directed stream of multiple pieces of content. Much of your content may not be seen but you're playing the numbers game. As long as your brand and the narrative is consistent your message stands a far greater chance of getting through.
Related: Get inspired with these 5 Marketing Video Examples To Fire Up Your Creativity.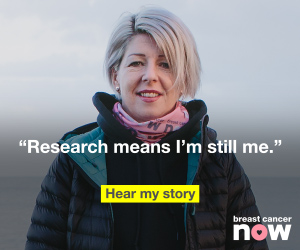 Breast Cancer Now: Chantelle - Instagram
Take our good friends over at Breast Cancer Now, they knew that in order to grab and maintain their audience's attention you had to hit them, not once but again and again and again. Muhammed Ali didn't win his fights with a single punch he danced around the ring and landed perfectly timed shots. Your video content strategy needs to do exactly the same thing. Atomised content isn't about spending more to get more, it's about getting more from what you already have.
Breast Cancer Now utilised their budget to ensure they had enough content to keep their audience engaged across multiple platforms for a longer period of time. Let the horse sized chicken slowly fall whilst you produce Instagram stories, Facebook posts, Twitter videos, subtitled content, banner ads, email marketing campaigns the list goes on and on. Loads of tiny horses streaming out towards their audience.
Related: Wondering how to make this happen for your own brand? Dive into the Casual Films Guide To Brand Video Production.
Breast Cancer Now Chantelle Video Banner
On average we shoot between 15 and 40 minutes worth of content per interview. This content is then condensed to a 30, 60 or 90second film. That leaves loads of unused material which can now be used to create supporting content. Take those clips which were just a bit too long winded to include originally and see if it could work as a stand-alone film, pull stills from video content and create new social media posts, turn the audio into a podcast. Once you stop viewing your video budget as a single deliverable you start to get much more bang for your buck!
Producing content in this way gives you flexibility. You don't have to blow all your budget on that one piece of content which needs to tick all the boxes, instead you can focus on the specific needs of your target audience. With the help of a corporate marketing video production team, you could make a film that speaks to each group individually, get personal and your brand and message will start to grow strong roots.
So, next time you're racking your brain trying to think of the next best all singing all dancing chicken sized horse surprise your audience with a hundred horse sized chickens, they won't see that coming. Or maybe they will - and that's kind of the point.
...
Whatever the size of your future content project, set off on the right foot with our guide to writing better briefs. You can download it here:
Contact Us