Ever wonder how to make a marketing video? Or why video marketing is so powerful? We dive into the answers with some inspiring examples.
Being an almost limitless, creative medium makes video an exciting and rewarding tool to work with. One of the things we like about our brand video production services is that marketing video briefs give us very clear constraints within which to work. Unconstrained creativity is anarchic. Within constraints creativity flourishes. This is why having a well thought out brief is so central to creating work which is memorable and effective. (You can download our guide to writing a good brief here).
Before you start with any project it helps to have an idea of the kind of thing you want to produce. To that end, we thought we'd pull together a few films which nail it — to help you to channel your thinking. Have a watch, have a think, and then maybe get in touch with an exciting production company you might know....
Dramatised Charity Film: Oxfam – The Heist No One is Talking About

This is probably my favourite charity film of all time. By reframing the issue of tax evasion, it makes the subject far more tangible for the audience. It is as illuminating as it is memorable. The cinematic production really adds to the drama and impact.
Inspiration point:
Films with this much gloss and thought require a significant investment. You can get a long way to a result like this with some decent creative thought up front. Once you have an idea as powerful as this, there are almost limitless ways of producing it — Hollywood production values or not.
Related: Build your own brand with professional video content backed by expert strategy. Get everything you need to know in the Casual Films Guide To Marketing Video Production.

Repurposed Material: BMW Careers

We love this film because it demonstrates how effective video can be at illustrating company culture. This company culture video was produced from the large amount of material that BMW already had. This was combined with some library footage and a punchy soundtrack, to deliver an effect that is eye-catching, memorable and effective.
Inspiration point:
Even if you're not BMW with endless amounts of great footage, have a think about the material you already have. Maybe you can update it, add to it or repurpose it easily to give you great content that you can get more mileage out of.

Business Mini-Doc: AutoDesk – History of 3D Printing

Most companies are associated with interesting stories if you look beneath the surface. I like this mini documentary because it allows Autodesk to give real depth and context to the work that they do. It builds trust with the company both internally, with employees, and externally — with customers, prospects and potential recruits.
Inspiration point:
Admittedly, 3D printing is kind of cool and looks good on camera — especially the time lapse footage. There are always interesting stories that you can use to build trust with your brand if you look for them. Keep an open mind and ask around. Ask your employees, colleagues or clients. Video is a magnifying glass on issues. You can make a film about an individual or an event and reflect the story of the collective.
Related: Check out five of our favorite branded content examples that showcase how you can communicate your ethos with the lightest of touch, in this blog post.

Interactive: Aloe Black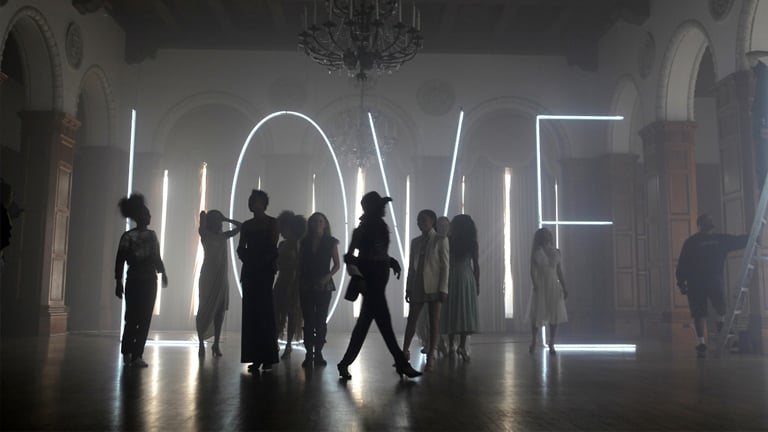 This will link you out to an external site.
This isn't a brand film, and the interactive is pretty basic, but we still tend to go to this as a great example of the medium, because it's so satisfying. It doesn't hurt that the track is ace too. As with any new creative technology, some of the early interactive has been a little prone to gimmickry. This confidently avoids that because the interactive adds to the narrative of the band coming together. It manages to inspire excitement as we switch from storyline to storyline, seeing what the next band member is up to. In a corporate context, this could be used to show almost any process where different threads run concurrently — a recruitment process, a product being assembled or an even being prepared.
Inspiration point:
Interactive video is a great way of increasing engagement with your audience. We have seen engagement rates on some of our interactive films rate at nearly 4x live action video. It may seem a little intimidating, but it just requires an understanding of the mechanics and a little planning.

Mixed Media Product Launch: Apple's Big News
Sure, it's Apple, so it's stylish, glossy and delicious. Producing something like this doesn't need to cost an Apple budget though. This video works because it combines a number of elements effectively: live action video, on screen type, beautifully rendered animation, powerful audio blended with a strong dash of humour. As our brand video production team knows, most of these elements are inexpensive to create, it just requires a good script and some planning. They can come up with the creative idea and then produce it quickly and efficiently.
Inspiration point:
It's easier to create something like this than it looks. Being clear on what you're trying to achieve before you start is the key. Once you have this, a professional producer can help you to create something memorable and effective.
---
It helps the production team if you have an idea what you want your video to look like. Marketing video examples help you fix down on your ideas, while a great brief will help you communicate them clearly.
Whatever you're trying to achieve, take a moment to consult our easy to follow guide to writing briefs which will make your video more engaging, memorable and ultimately effective.