Films of 2018
As is customary for this season, we like to cast our minds back to the year just gone. The people we've met, the places we've been and the adventures we've had. In this spirit, we thought we'd take a look back at some of the films we've made this year. These are not necessarily the best, the biggest, nor most important, but they have left a mark in our Casual memories.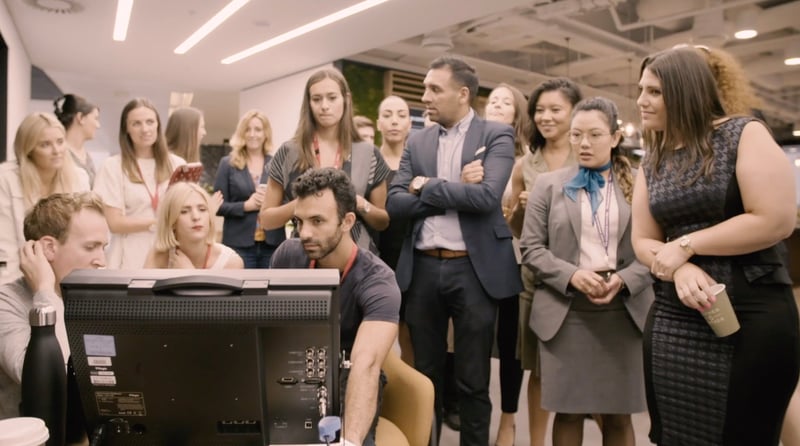 Still from Mitie Behind the Scenes
It's possible to see some of the trends that became part of the wider geo-political discourse of the year. We've got tech, diversity, millennials, interactive, alternative money, and connected workspaces. One thing remains clear - Whatever the purpose of the films or how they are executed, storytelling and narrative remain central to landing creative messages with an audience.
Take your favourite refreshment, put your feet up and enjoy the Casual Films equivalent of Christmas programming. Cheers!
BMW Careers
One of the great things about video is it's ability to capture intangible concepts, like brand and company culture. This is one of the reasons it makes such a great tool for those working in employer comms/recruitment. There were a number of films we could have put here, but we chose this for its fun and character, and the fact that it is still grounded in what it is trying to achieve. You can see more attraction and recruitment videos here.
Autodesk 3D Printing
Produced by our new San Francisco office, this mini-doc looks at the wonders of 3D printing. This video was edited from Autodesk's huge video library - with added voiceover, music and sound design to bring it all together. It shows just how effective promotional docs like this can be, despite their cost efficiency.
Vodafone Equal in Work
2018 saw diversity move further up the agenda for companies as more businesses sought to underline their credentials as equal opportunities employers. Vodafone chose this interesting treatment to illustrate the challenges faced by LGBT+ people in the workplace. This shows the power of video to bring facts to life through creative treatment.
Glint Interview Led Promo
There was also a growing questioning of traditional stores of wealth. It is fitting then that this promotional interview led film for our friends at Glint, promotes gold as a useable form of payment. This film shows how effective a simple interview can be at explaining and promoting a product like Glint. You can see more explanatory promo films here.
Amplifier - We the Future
It's been hard to miss the growth in activism - particularly in the US. This film features street art legend Shepard Fairey (of Obama Hope fame) and was produced for activism group, Amplifier. They aim to increase civil awareness among children and young people by getting art into 20,000 classrooms across the US.
Mitie Connected Workplaces - Behind the Scenes
We've shared this before, but it shows just how much fun you can should have on set, so we thought we'd share it again. This was the behind the scenes video of a series of films we produced for Mitie. You can see the rest of them here.
Greater Anglia Winter Campaign
We thought we'd end with this delightful animation created by our London team for the Greater Anglia train company. It demonstrates how animation can bring the brand to life and draw together the visual and voiceover narrative to land the story. It's a lovely piece of work and a festive way to finish the look back.
---
If you're interested in getting a few more tips on how to make better, more effective videos,
you can download our our TOP TEN tips right here:
Contact Us