We get to work on a wide range of work at Casual. It's great when we get to produce a piece of work which stands for something that we believe in. It's even better when we get the opportunity to be really creative in producing it. That is what happened with this film for multinational consumer goods company RB. To give the project a real cherry on top we were over the moon to win a Gold Dolphin at the Cannes Corporate Film Awards.
THE BRIEF
Produce a video for social distribution about RB's 'Reduce, Reuse, Replace and Recycle' commitment to plastics. Through that commitment they aim to remove or reduce plastic packaging wherever possible. They are also investing in research into alternative materials that can replace its use.
So the film should reinforce RB's commitment on plastics, in the framework of their purpose
- Generate interest on their commitment on plastics
- Drive behavioural change
- Create connections with stakeholders and boost conversations
It style is should reflect RB's identity (confident, direct and simple). Have a human element and be factual, but emotive.
RB is inspired by a vision of the world where people are healthier and live better. RB invests in innovative solutions for healthier lives and happier homes. "Everyone has a role to play. A cleaner world is everyone's responsibility."
THE SOLUTION
RB: The Planet is Speaking: Are you Listening
A thought-provoking and emotive sound-design led film that compels the viewer to take action.
In this simple yet visually powerful film, we will capture moving tableaux of beautiful landscapes and evocative natural elements, and create matching soundscapes for each tableau, out of non-recycled plastic.
It is not until later in the film that we reveal that these ambient nature sounds have all been made out of plastic products - straws, water bottles, plastic bags - by Foley artists in a studio. The viewer is led by on screen text that sets up the story, challenges them to really listen to the plastics problem and join in the commitment for a cleaner world.
The emotive power of this film starts with the beautiful and evocative natural images we are seeing, and ultimately builds until the final reveal.
It's time to listen to our Planet.
RESULTS
"Sometimes in corporate life you get to work on a project that can really make a difference and means a lot to you personally. Are you listening? The RB film we made with our friends at Casual Films is one of those projects. It outlines how we see the issue of plastics at RB, and encourages others to take action too. And all in 90 seconds! We're very proud of it - and tonight have another reason to be, as we won a Gold Dolphin at the Cannes Corporate Film Awards. Watch the film, share the film, and most of all - let's all do our bit to reduce plastics.
- Jo Osborn – VP Internal Communications & Corporate Brand, RB
"It seems I am already late sharing it, but I really want to say how proud I am of this film about plastics and how strongly I believe in it. Since the first meeting about the concept I have had goose bumps about its impact. Today we are celebrating it in Cannes with a Gold Dolphin Cannes Corporate Film Awards. It was a lot of work, but worth all the reviews and discussions!"
- Federica Di Persio – Corporate Brand Manager, RB
AWARDS
The Planet is Talking: Are you Listening also won a Gold Dolphin for Environmental Issues and Concerns at the 2019 Cannes Dolphins Corporate Film awards.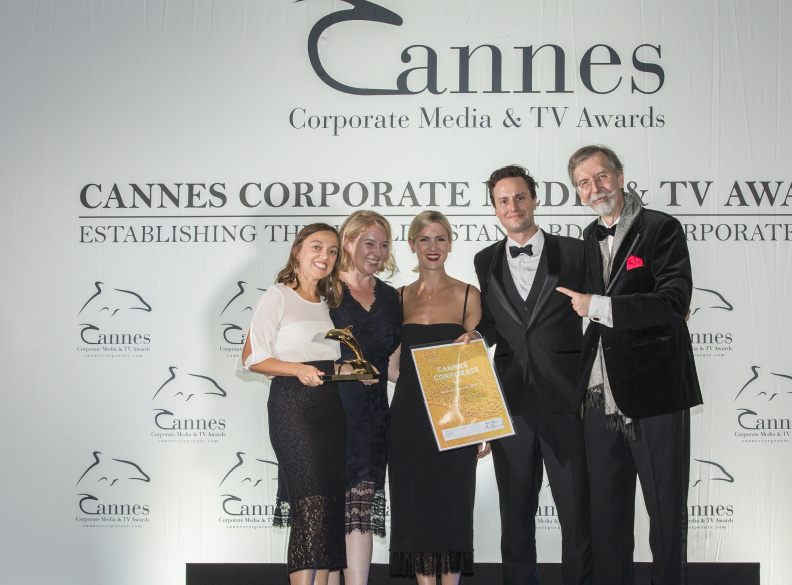 ---
Whatever you're trying to achieve with your video project, the most important step you take is the first one. Get off on the right foot with our no nonsense guide to writing a really effective brief. You can download it here.
If you would like to discuss a project with one of our team of experienced producers - no salespeople - please drop us a line here. We look forward to helping you make your next project the best yet.
Contact Us